The visa will be ready after two days, so on Thursday at 3.30 pm… after checking out from the Silom Village Inn Hotel, I went with Oud to my next destination which is the MCU hotel in Wang Noi, Ayutthaya where we arrived quite late after being lost at another nearby campus with a similar name, and driving until three times back and forth the highway because the U turns were probably on a 25 km distance, so it was 10.30 pm when we finally arrived, quite tiring after the almost infinite congestions in a gloomy dark rainy evening… Next day I had to perform which is to be recorded on video… After an ok night sleep I could perform well in my estimation… my hosts and attenders were quite satisfied as well. I gathered from the feedback and from the pictures postings on Facebook on the MCU page (Maha Chulalongkorn University) and on the MCU IT pages, where the videos, before and after the lunch break can be found, that the reception of my seminar was highly rated… In fact I offered a rather condensed version of what I am offering in essence at Shan State Buddhist University in Myanmar which might include some shocking pictures for venerables…
Somehow I came well across with my message that I am there to present a Buddhism 4.0 which is in essence Buddhism as Psychology. The 4.0 is according to the next steps after B1.0, the Buddha's liberation quest, B2.0, Buddhism as a philosophy conform Nagarjuna's comments on the Perfection of Wisdom sutras, and B3.0 which is Buddhism as a religion as offered by the commentaries on the Buddha Womb sutras of Asanga and his half brother Vasubandhu, who later joined Asanga's religious quest which is a Buddhism with an abundant cosmology that is eventually to be deflated to its essence of a teaching of emptiness… B4.0 is, like the previous two, the Buddha's 'wine in a new bottle' of psychology and its healing conversational practice, psychotherapy.
The Zeitgeist seems ripe to offer B4.0 (the 4th turning of the wheel of Dharma) as almost every venerable will agree with the proposition of Buddhism as Psychology, if only by acknowledging the manifold usage of the term mind and its many variants and concomitants in the scriptures of all Buddhisms, which, no doubt possible, refer to psyche, thus to psychology… My dearest hope is to weigh in on Buddhism as Psychology and Buddhist Psychotherapy, my life work of almost four decades… Since my presentation was quite successful, I felt even more enthousiastic maybe and perhaps like a peaceful revolutionary by taking Buddhism to its next level as a Psychology… perhaps for generations to come and which might become a new global wave in Buddhism… Will this whole endeavour of mine end happily with a definite global success? According to a full-time American Professor at MCU who goes by the name of Frank, my presentation was way well attended compared to the previous seminars by visiting professors he attended…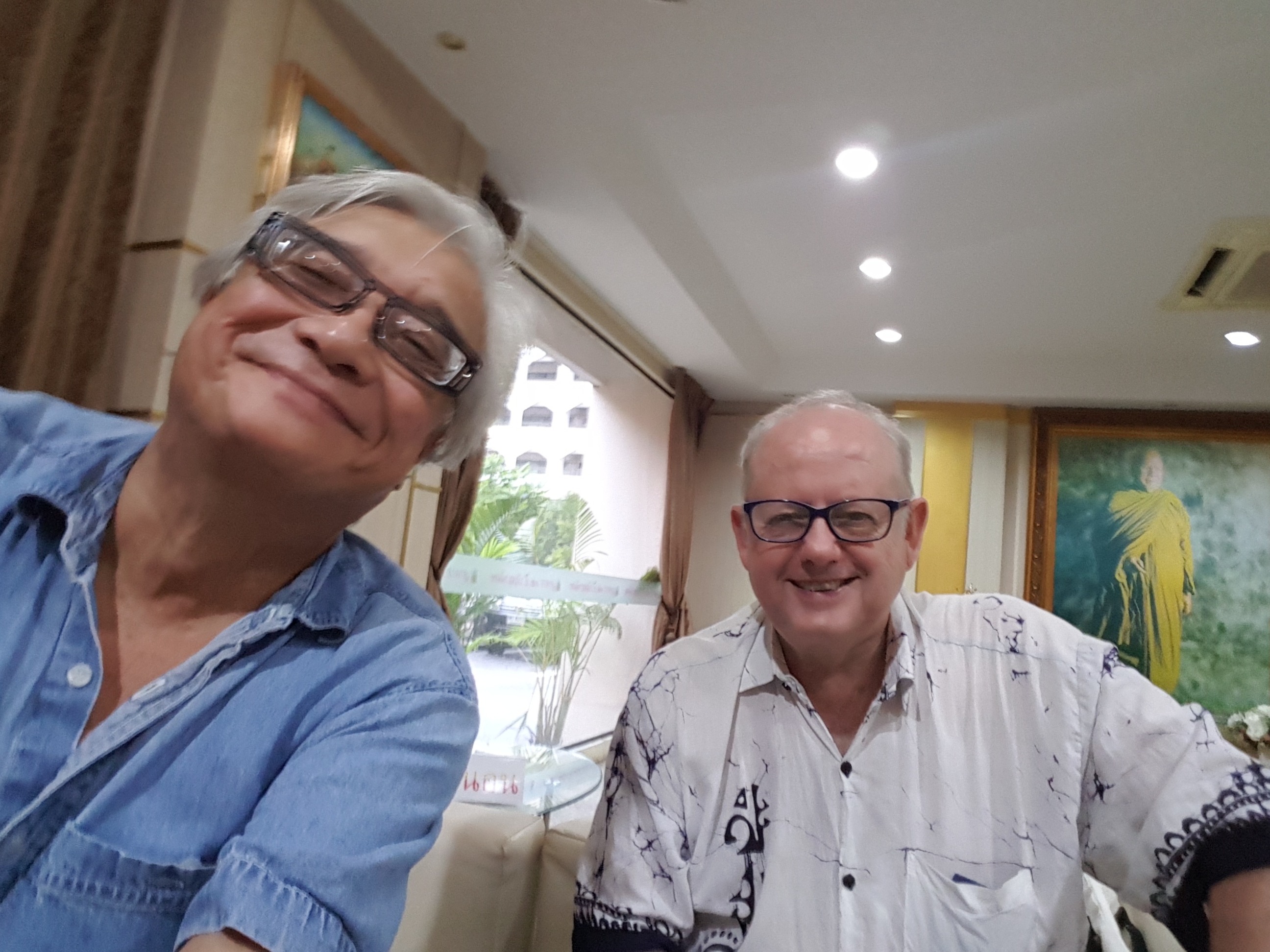 So, mine can clearly be declared successful according to him… so far so good, but see the videos for yourself… 
See the plenty of photos at the MCU Facebook and these two videos

https://m.facebook.com/story.php?story_fbid=1771369156244584&id=100001145516482
https://m.facebook.com/story.php?story_fbid=1771368836244616&id=100001145516482

Meanwhile, an issue occurred at SSBU as it seems that the students were not to be able to follow the many slides I have shown them… Indeed a lot of oneliners stating in many various ways that: "we are what we think, with our thoughts we make the world, speak or act with an unwholesome mind and trouble will follow you as ox that draws a cart".  I have to admit in order for them to easily memorize and catch the spirit of a Buddhist Cognitive Behavior Therapy, which boils down to Epictetus' "that it is our own thinking about something or someone and not the external event which upsets us" that breathes a Buddhist spirit as the late Albert Ellis (founder of Rational Emotive Behavior therapy) and I ever once wrote about in The interface between REBT and Zen… Reviewing the beginning, I remember being encouraged with the slides when some of the students said that they saw beautiful pictures.
My idea to offer pictures is based on the saying that one picture might be worth 8000 words… The wording of psychology is obviously new for my students and will be more easily understandable if they have read them. However, the question whether they have read the two obligatory free downloadable books, only one lay lady of the seven core student said she glossed it over… to memo, I have one more dilligent student, a bhikkuni with an energy buzzing around her of a Buddhist fanatic, a PhD candidate and who is there as a core group member but not obliged to take an exam… Sometimes there are one or a few observers more in the class… I also remember a student's remark why I use such difficult words? My answer was to be as concise or short as possible in my presentations (obviously I cannot substitute academic psychological professional terminology in conversational wording, therefore the reading of the books)…. Anyway, I will get a meeting with Dean, vice Dean, Registrar and a Spanish Pali scholar, a young Dr who helped me before with checking Pali terms in the centerpiece of my teaching, an ABCDE-Form, which I came to call Karma Selfie Analysis, as it is in fact analysing one private afflicting Dukkha event of self, thus a rebirth of an emotional episode of self, like a selfie or short video in order to create new private wholesome ideas in a problematic situation… This selfie is a memo that it is not about a lengthy narrative but a momentary flash of an emotional karma episode of (illusory) self and a working sheet of the Karma Transformation technique… Psychotherapy, btw, functions in the domain of provisional self on its way to ultimate no self…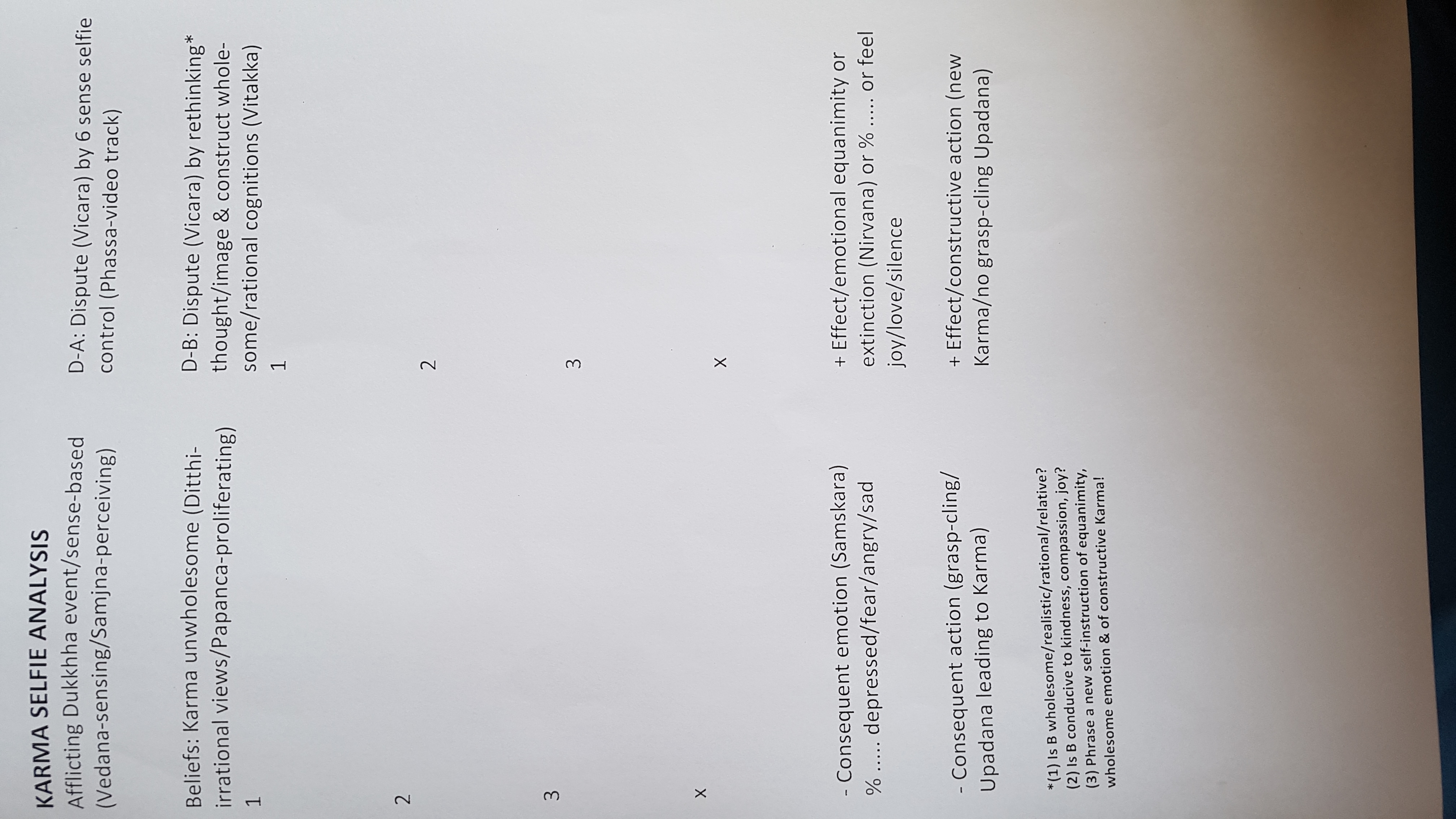 How to solve the issue? Being a problem solver in my life, I proposed the Dean to have the group watch the two videos on the presentation yesterday and read one of the two obligatory books at least for now before my return next Sunday, but that would add to their workload… alas there is no other way than to put effort (nr 6 of the 8Fold Balancing Practice).Let's wait and see what the meeting next Monday will bring… Anyway, another flash was that I wanted to change the current style of one directional teaching back to interactive teaching again that I started with, but came in time trouble. In the beginning of the endeavour, I had students read the texts on the slides and since it slowed down the pace tremendously, I did the reading myself. Saves time but can the 'miracle of education' take place in this way?… and with a new vocabulary of psychological terms, the mix can be adacadabra, understandably not understandable for my students… For an Indian lady, funny enough I was to slow by extensively explaining little by little and stepwise… It is not easy to teach such different minds.
The solution might well be in the middle, and I am willing to discuss more about what it is all about until the point of understanding and have them raise a finger if not… to stop and repeat or tell in other words… Meanwhile I caught my plane from BKK to RGN… and now back in Yangon… At the airport there were perhaps a thousand or more fans, young women and girls, waiting for a S-Korean band to arrive… I was lost in the masses and it was impossible to find my host of the Ruby Guesthouse I visited earlier, a young woman was kind enough to looking up for the phone number and calling to no avail… Reconsidering the impossible situation with numerous taxi drivers pushing me to take a ride with each of them, my adventurous mind inspired me to sleep in the big hallway on a bench… which I did with a few others… to wake up at 4 to upload my mobile battery at Kentucky FC to take a free shuttle to the domestic terminal at 5… to fly by coffeemill that took me back to Heho… There the most honorable Venerable Dr Khammai Dhammasami's sister Ms Khamnoon was already waiting for me to take me back to SSBU uphill in a one hour drive or so that I spent sleeping and dosing…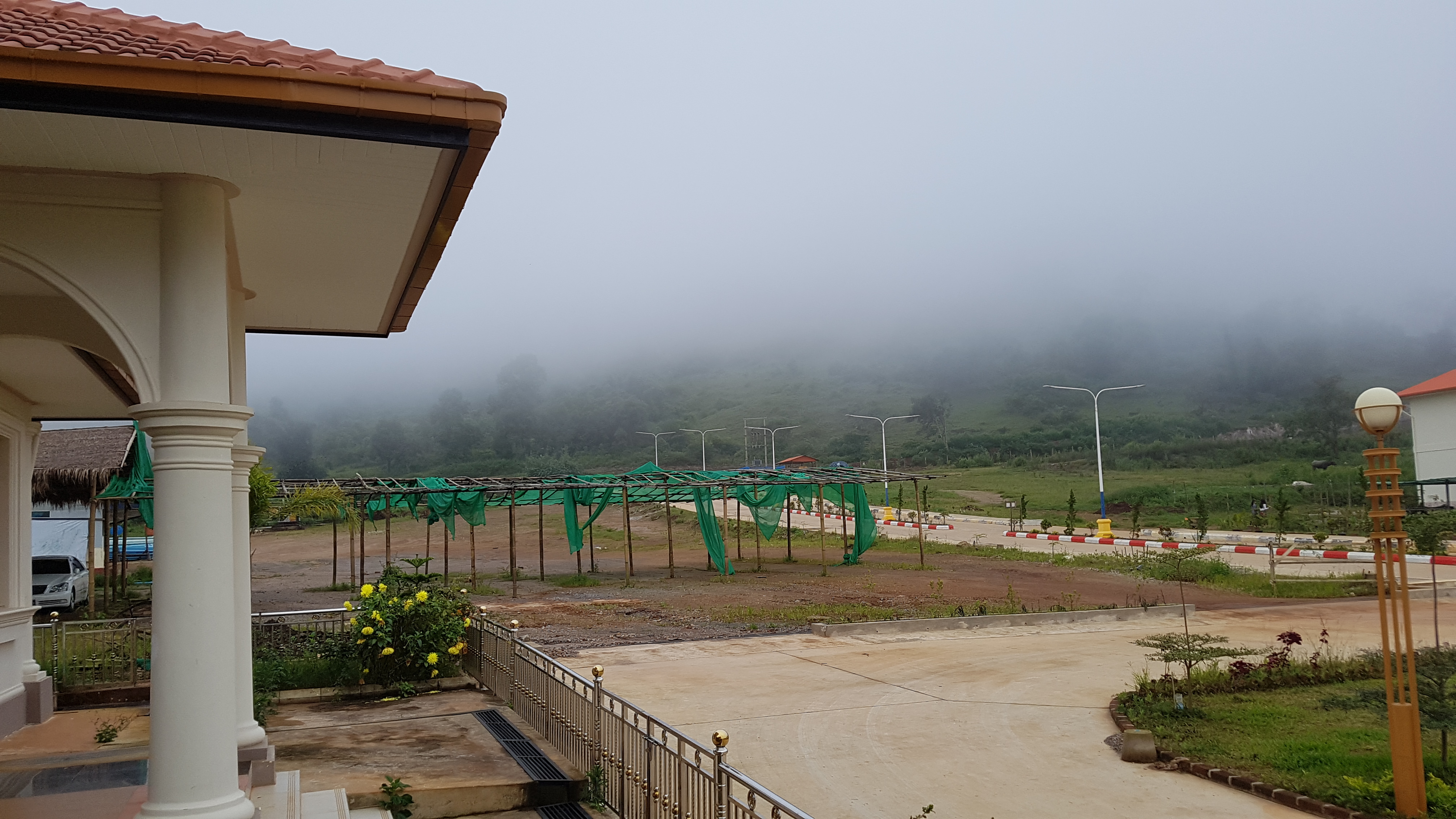 My tiredness made me forget that I spent the last night in a proper place called BedByCity Hotel Surawong Patpong that I can recommend everybody if looking for only sleeping… There was a woman who goes by the name Toey Sermsook, who suddenly contacted me via Messenger and would like to show me town and have a dinner somewhere.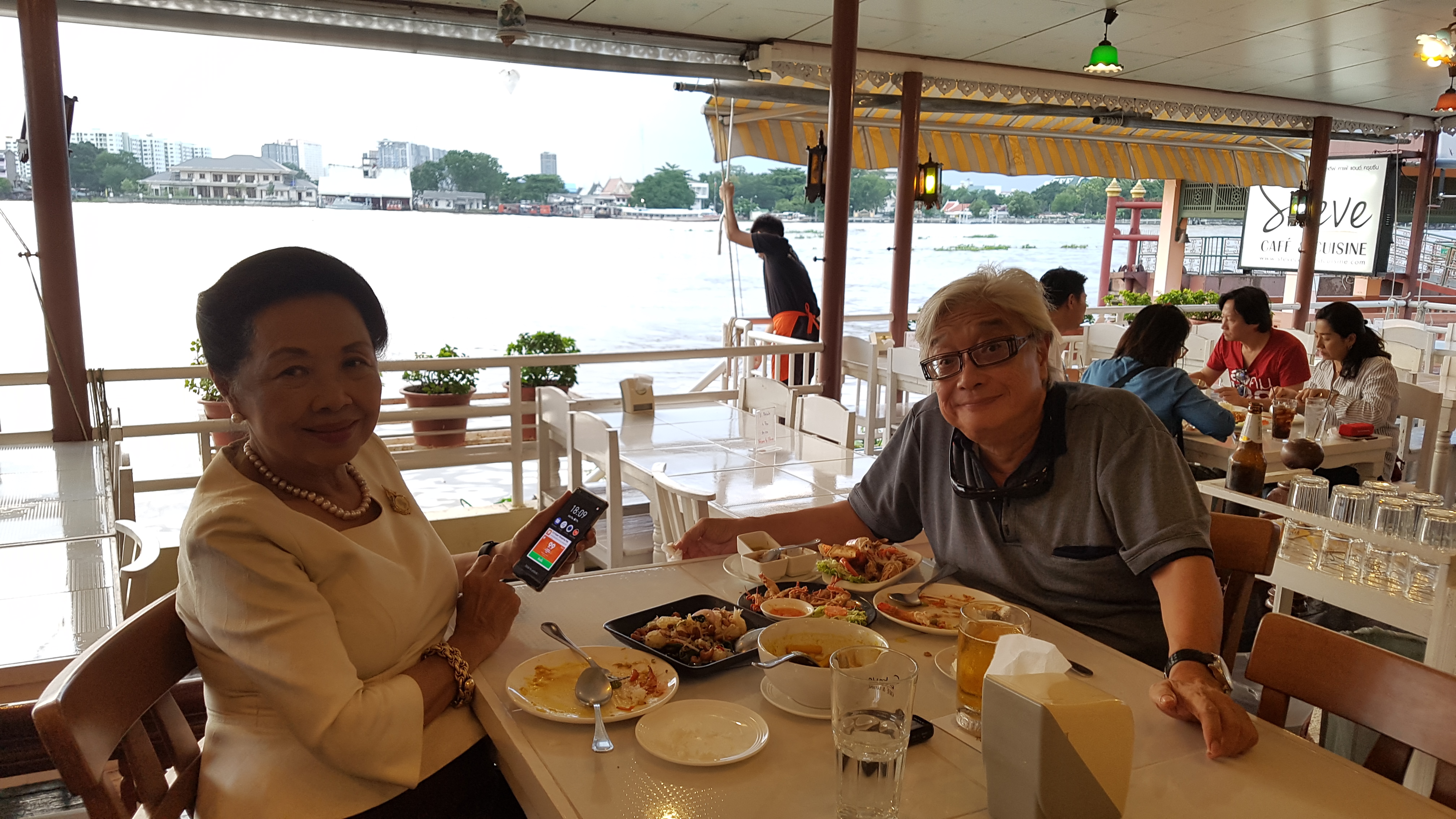 Getting used that women invites me, shy man, for a dinner these days (seems more normal in Asia then in Europe, but ok I am tourist here and ignorant on restaurants and places to be, and they are just metta me as if I am a bhikkhu or wants a high level chat?)… But my god where do I know her from? Haven't got a clue but there she is waiting in her car outside the Myanmar embassy, that she used to frequent as a former employee of Chase Manhattan responsible for Burma, and where I just got my much desired visa… So she brought me to the fanciest place in town which is a restaurant called Steve at the Chaopraya River waterfront, lovely… and we enjoyed a seafood dinner while talking about Buddhism as Psychology whose sutta essence I can tell about by reinterpreting the first-turning-of-the-wheel sutta and why I call Buddhism as Psychology B4.0 I hope she understood the main points cause she or rather her brain-mind is like a full cup of tea as we in Chan/Zen call it. She seems to have a number of gurus… is she a living example of a hungry ghost? The hungry ghostscI have met before were hungry for sexdrugsandrockandroll, a hungry ghost is to me as a psychologist an archaic realm one can get a rebirth in next to hell being, god, demi god, animal or human being. Most Buddhist take it literally that in a next life someone can become a heel being or deva or god.
Psychologically, rebirth into hell is experiencing anger over and over again in this life like four recurrent angry episodes today. Applying Occam's Razor, a deva is someone who has a personality state or trait characterized by superiority, arrogance or in a worse case thinking being white skinned  to an übermensch… so all in this life. Anyway, we ended up talking about what is next when the Buddha or any other meditator after awakening opens the eyes and sees what the world looks like… full of bankers' greed and extremists' hatred probably due to ignorance how the mind works… How amazingly actual the Buddha's words still are on the 3 Poisons as we Mahayanists call it or in Theravada wording: the unwholesome roots, Greed, Hatred and Ignorance (up to 7 more kilesas/afflictions derived from ignorance)… Coming out of the restaurant, there he is loyally waiting, my driver taxi friend Oud… I call him friend because I know hs wife who once did my laundry and his daughter Noon for whom we are going to buy a decent watch as present tomorrow morning… Back to the clean Thai muslim (scarfed) women driven hotel…